My book
Journey into the Foreland- Spiritual guide to our parents and ancestors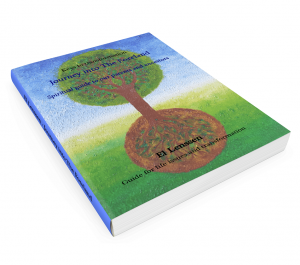 Dear reader,
During my many years of spiritual work, in which I've had the opportunity to meet and 'read' thousands of people, I literally got handed the keys to transformation. This information of such greatness and trueness that I felt I just had to bring it out.
I wrote a book about it in 2014: 'Journey into The Foreland – Spiritual guide to our parents and ancestors'.
The book is about a subtopic of my job. In my book, I explain how I can look back into many generations, into the timelines of people and how I can help them to transform the information laying there.
Do you know how you can see into your parents' and ancestors' Foreland?
Do you know that that's where the gold of your origins is?
Do you know you can actually transform, if you decide to look for it?
Find the gold in your origins and become healthier, happier and more vital.
By looking into our parents' and ancestors' Foreland, we can have a better understanding of who we are and why we do or experience certain events in the way we do. By re-living something from your Foreland, a certain greatness happens on the inside: You become more beautiful, newer and you will shine more.
It's proven itself in my work many times: It will make you a richer, more vital and more talented human being!
In Journey into The Foreland, I will explain how I do that and how it works.
Beautiful life true stories from my practice will accompany the information and will show you what the effect can be. They're stories about normal people, people like you and me. Stories you can really relate to.
My book to you is a beautiful book, a living book, a book you can read and read again. A book you can reload yourself with. It moves (in) your hands and (in) your heart.
The book is illustrated by the images made by Hans van Gemert
With the help of these beautiful illustrations the deeper meaning of the text comes to life.
The book Journeys into the Foreland is fully registered and has its own ISBN. Retail value: € 29,95 – ordered via this site at € 24,50 (Shipping costs not included)
To order Journey into the Foreland  just click here